Professional Practice credentials
Transform your skills and experience into a professional brand
The future of work is now
The world is getting smaller. Globalisation and rapidly changing technologies are shifting the way that businesses operate. And, as we move further into the 21st century, the workplace continues to evolve in a way that will make it completely unrecognisable to that of decades past. For organisations and individuals alike, these immense forces changing the business environment present greater challenges, but perhaps more importantly greater opportunities, than ever before. With soft skills such as communication and critical thinking becoming increasingly important for seizing these opportunities, now is the time to invest in your own future. Learn More
Source: Deloitte Access Economics, Soft Skills for Business Success
$0k
potential revenue increase due to soft skills of employees.
0 in 4
organisations report a workforce skills gap.
0%
of job advertisements state a demand for soft skills.
Source: Deloitte Access Economics, Soft Skills for Business Success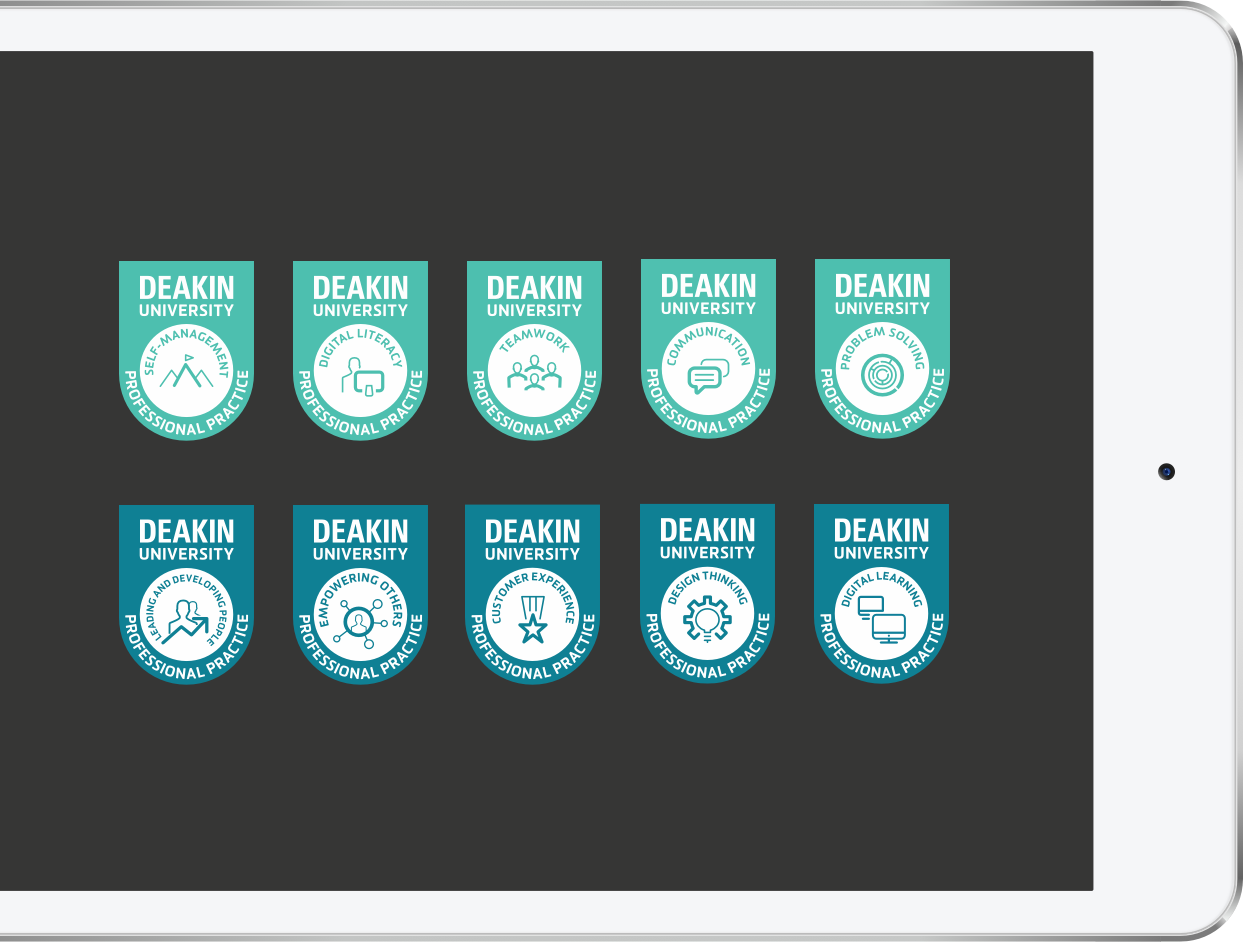 Introducing Professional Practice credentials from Deakin University
Professional Practice credentials are a form of micro-credential. These are skill specific signals of achievement that allow individuals and organisations to have their capabilities recognised and independently verified. They're a new way to ensure you and your workforce stay future-proofed in this increasingly changing world. Traditional professional development is often more generalised, expensive and time-consuming. Credentials are skill-specific, completed 100% online, and with no coursework involved – giving you a more personalised, efficient and cost-effective way to verify your existing skills. A credential costs $550 incl. GST
Credential categories
Deakin's credentials are offered across three categories, and are aligned to international qualification and industry skills frameworks, meaning they're industry-relevant, globally recognised and tailored to put you ahead of the pack.
Employability
Deakin's core employability credentials are the 'soft skills', or transferable skills that professionals need to excel in contemporary workplaces. These skills are becoming increasingly important as soft skill-intensive occupations grow.
Leadership
Good leaders are highly valued across all industries. Deakin leadership credentials offer tangible proof of your demonstrated ability to empower, motivate, inspire and manage.
Technical knowledge
Through your career, gaining and expanding on technical knowledge gives you the opportunity to grow as a professional. Our technical knowledge credentials recognise the skills you've developed in a range of disciplines, from marketing to risk management.
The benefits of micro-credentialling
Whether for yourself, or your workforce – everyone can benefit from having their capabilities formally recognised.
For individuals
Credentials can make you more confident about the skills you've acquired through your work and career experience. They're also globally recognised proof of your capabilities, including key skills that are not always easy to measure – making you much more appealing to potential employers. As well as being an incredible resume-booster, Professional Practice credentials can also be used as a faster, cheaper stepping stone into postgraduate study. Two credentials equals one credit point into a masters degree. You can earn up to two credit points (where course rules allow).
For organisations
Deakin University's micro-credentials offer a cost-effective way to measure workforce capabilities, increase employee engagement and ensure company competitiveness in today's ever-changing environment. And with the demand for lifelong learning increasing, offering a structured yet flexible learning program for your workforce could make you an employer of choice. But the benefits of credentialling go far beyond productivity gain, staff engagement and cost reduction – they extend to better service delivery to your end user, and greater relevance in the modern marketplace.
"My credential certifies what I can offer to anyone interested in collaborating. It's a legitimate form of evidence that's requested by many companies during the selection process."
Samuel Lopez-Lago Ortiz
Critical thinking credential
Assessed by Deakin University
Professional Practice credentials are assessed by industry practitioners and professional academic staff at Deakin, a university well-known for its history of innovative and cutting edge teaching delivery.
Top 1% of universities globally
Each of the three major international rankings have rated Deakin in the top 1% of universities worldwide.*
Rated 5 stars
Deakin was awarded a 5-star rating by the prestigious university ranking organisation Quacquarelli Symonds (QS).
No. 1 University under 50 years old
Ranked Victoria's #1 University under 50 years old by Times Higher Education 5th year in a row.
Get in touch
If you'd like to talk to anyone about how credentials can better prepare you or your workforce for the future of work, contact us today.